Press Release
September 14, 2020
Contact: Lynette Smith, Executive Assistant
(808) 985-7373
admin@fhvnp.org
Friends of hawai'i volcanoes National Park (fhvnp) accepts $150,000 Grant FROM THE NATIONAL PARK FOUNDATION AND NATURE VALLEY
Thanks to the National Park Foundation and Nature Valley this grant supports FHVNP's inaugural program "Guardians of the Trails Youth Program."
Hawaii National Park, HI – The Friends of Hawai'i Volcanoes National Park is pleased to announce the receipt of a Service Corp grant from the National Park Foundation and Nature Valley.
This grant provides significant funding to FHVNP's inaugural Guardians of the Trails Youth Program. In 2018, FHVNP launched its Guardians of the Trails Program, with a commitment to restore and maintain 150 miles of front country and back country trails in Hawai'i Volcanoes National Park. We knew the importance of creating 21st Century stewards, so we launched the youth program in 2020.
With this funding, FHVNP hired 6 youth ages 17-25 to work with the park's Natural Resource Management Division. The youth started work on June 29 and will work through November, 2020. They are well on their way to clearing invasive plant species over five miles of Hawai'i Volcanoes National Park's trails.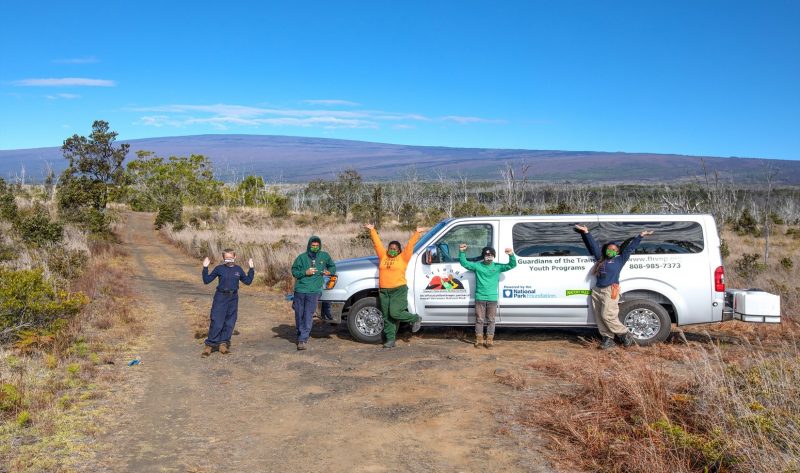 These paid internships could not have come at a better time. With COVID19, employment for youth is almost non-existent. For most of the youth, this is their first paid job. All have indicated they are saving for college, helping their families with groceries and other living expenses.
FHVNP follows all CDC, Hawai'i State and County guidance. The youth work outdoors, staying 15 feet apart, wear masks when required, and when transported to various sites, sit one youth to a row.
"It gives me great pleasure to see a successful program during these difficult times. I am constantly amazed to see these youth mature and take pride in their work.  We are grateful to the National Park Foundation and Nature Valley for their generous support." said FHVNP's CEO Elizabeth Fien
"The Guardians of the Trails Program fosters a new generation of stewards to care for our park. Parks are places of inspiration, and it's really heartwarming to see how this program can make a positive difference in the lives of young people." said Hawai'i Volcanoes National Park Superintendent Rhonda Loh
Donations for the Guardians of the Trails Youth Program can be made directly on our website www.fhvnp.org.
###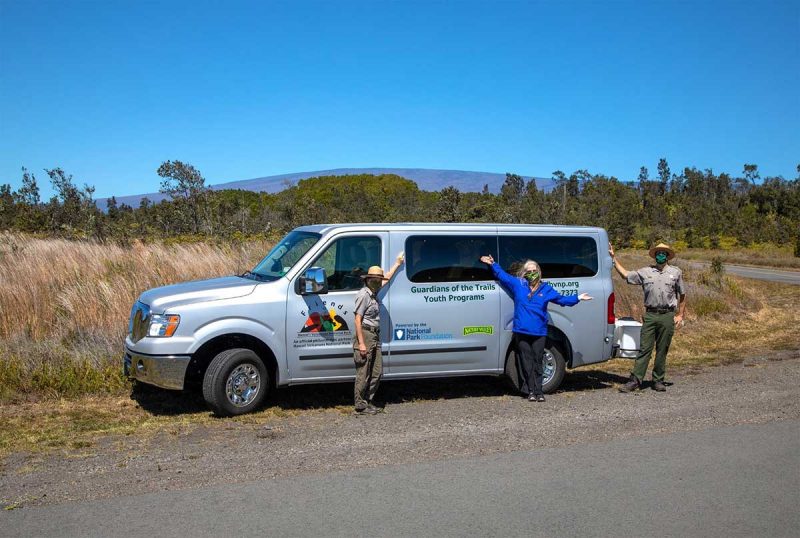 About Friends of Hawai'i Volcanoes National Park
Ike honua – Value of place. We support the National Park Service in the protection, preservation, and interpretation of the natural and cultural resources at Hawai'i Volcanoes National Park for the enjoyment of current and future generations. Ka 'ea o ka 'aina – The life of the land. We envision a Park with a cultural and natural native ecosystem where all visitors experience a profound connection to the unique physical and spiritual beauty of the Island of Hawai'i. Ike pono – Quality. We strive for excellence in our support of the Hawai'i Volcanoes National Park. Quality in all our efforts is our fundamental objective. Hana laulima – Stewardship. We maintain an enduring commitment to preserve, conserve, restore, and care for our natural resources and cultural heritage for future generations. Imi na'auao – Education. We are committed to providing experiential education for the people of Hawai'i and visitors through transformative experiences that connect people to nature and to the host culture.
About the National Park Foundation
The National Park Foundation, the official charitable partner of the National Park Service, enriches America's national parks and programs through the support of private citizens, park lovers, stewards of nature, history enthusiasts, and wilderness adventurers. Chartered by Congress in 1967, the Foundation grew out of a legacy of park protection that began over a century ago, when ordinary citizens took action to establish and protect our national parks
About Nature Valley
We believe what you put in is what you get out. Real ingredients. No asterisks, real flavor. Energy you can rely on. We have partnered with the National Park Foundation. Nature Valley is donating $3 Million dollars with a goal of restoring access to 10,000 miles of trails in National Parks. We know nature makes us better. That's why we're supporting improvement and restoration projects that increase access to thousands of miles of trails and dedicating those miles to the many reasons it's true.