LEARNING ADVENTURES IN AND AROUND HAWAI'I VOLCANOES NATIONAL PARK
volcanology – geology – ecology – botany – wildlife – Hawaiian culture – archeology – history – hiking –birding – photography- service learning projects – more
SUPERINTENDENT'S MESSAGE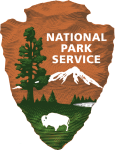 "Hawai'i Volcanoes Institute shares the park's educational mission as a partner providing quality programs that inspire and engage people in the understanding, appreciation, and stewardship of this remarkable national park."
– Cindy Orlando, Superintendent, Hawai'i Volcanoes National Park
Institute-on-Demand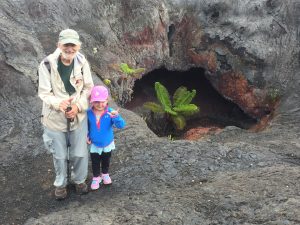 Young and old love our adventures! (click for full size image)
Institute-on-Demand private tours allows your group (of any size) to create your own custom-designed private tour. Let us know your group's itinerary, activity level, and interests—and we'll create a personalized adventure just for you!
Our private tours are built on your interests – truly an experience dictated by you.
We normally do 4, 6 and 8-hour and multi-day tours ranging between the hours of 8am and 8pm.  The minimum tour available is 4 hours.
We have geologists, volcanologists, retired park rangers, botanists, photographers, a wildlife biologist, the 2014 Hawai'i Island Eco Tour Guide of the Year and other specialists/naturalists as our guides.
We can do anywhere from a moderate hike to an extreme hike.  We do photo tours where we use a photographer who is famous for her work here in the park, to a geology type tour with combined rainforest, to volcanology – old lava sites, new lava flows, cultural and historical interpretive hikes and more.
Our excursion costs are as follows:  Please note that this cost is not per person, but rather a flat fee for a group of 1 to 6 people.
2023 Pricing
4-hour excursion –          $400.00 (flat fee 1-6 people)
6-hour excursion –          $500.00 (flat fee 1-6 people)
8-hour excursion –          $600.00 (flat fee 1-6 people)
Photo tours –                   $400.00 – $1,000.00 (flat fee 1-6 people) (variations depend on equipment needed, location, length of tour and daytime verses night time tour)
Media tours – Please contact our office for information.
Multi-day excursions and groups over 6 people –  please call for a quote.
NOTE:  Bookings are confirmed, and guide secured upon payment in full.  We accept major credit cards and PayPal.
Friends of Hawai'i Volcanoes National Park is a non-profit organization, and proceeds from our "institutes on-demand" go to support Hawai'i Volcanoes National Park projects and programs.  These programs include endangered species programs for both the Nene bird and the Hawksbill turtle recovery program, our Youth Ranger Internship Program, forest restoration, trail maintenance and more.
Arrange Your Tour
To set up your Institute-on-Demand private tour, please call (808) 985-7373 or email us at institute@fhvnp.org.
The earlier you contact us, the more likely we are able to accommodate your requests.
We are happy to answer any questions you have about arranging your tour, and your visit to Hawai'i Volcanoes National Park.
CANCELLATION/CHANGE FEE
All cancellations or changes to dates or times of the institute/excursions provided by Friends of Hawaii Volcanoes National Park will be charged a fee of $50.00.
If the cancellation is within 48 hours of the start of the institute/excursion, 0% of the entire cost of the institute/excursion will be refunded. All proceeds support Hawaii Volcanoes National Park.
We are in a native rain forest at 4000 feet in elevation. We rarely cancel any excursions. There may be a need to do so if volcanic air pollution becomes a problem. Earthquakes, new volcanic activity, extreme weather or fires may also cancel excursions. In the event of a cancellation by Friends of Hawaii Volcanoes National Park or the national park closes, you will be refunded 100% of your excursion cost.
---