OUR MISSION
To support the National Park Service in the protection, preservation, and interpretation of the natural and cultural resources at Hawai'i Volcanoes National Park for the enjoyment of current and future generations.
Volunteers Do Make a Difference!
Friends of Hawai'i Volcanoes National Park could not exist without its loyal cadre of volunteers, members, and all-volunteer board. From active outdoor projects to sit-down office tasks, volunteer opportunities abound!
Contact Us to Volunteer
If you'd like to volunteer, please email us with your skills and areas of interests – we'll gladly find you a role with us!
Volunteers Can Help:
Restore the native forest
Assist at field seminars
Lend a hand at public events
Assist in the office and with mailings
Do computer work
Assist with grant writing
Fundraise
Our Volunteer Projects Include: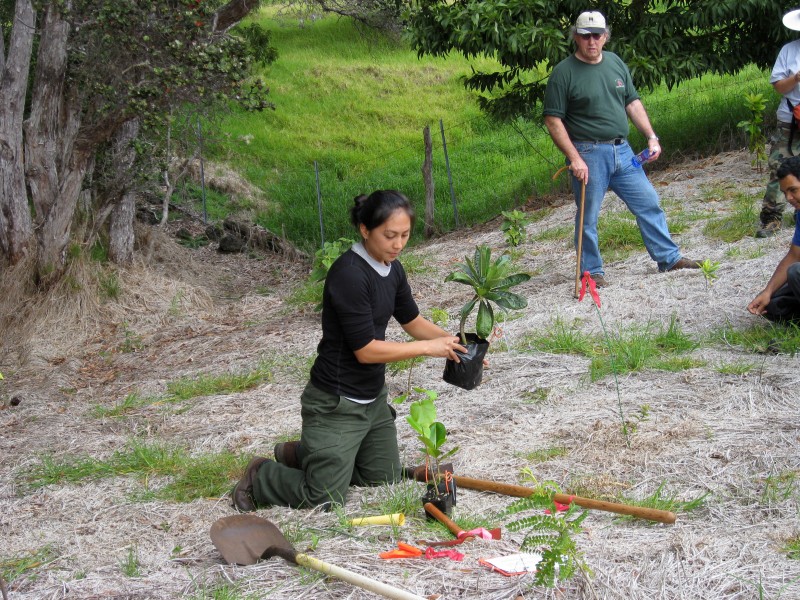 FOREST RESTORATION PROJECTS
Volunteers are needed to help conserve the forests of Hawai'i Volcanoes National Park. With over 330,000 acres, there is plenty to do! Projects vary from month to month, and can include native seed collection, invasive species removal, and native seedling planting. Our goal is to support the park as much as possible in their efforts to restore and maintain precious native forest ecosystems. We invite you to join us for a wonderful opportunity to enjoy our national park while participating in forest recovery!
When: Monthly – see our events for details
Contact: (808) 985-7373 or forest@fhvnp.org
---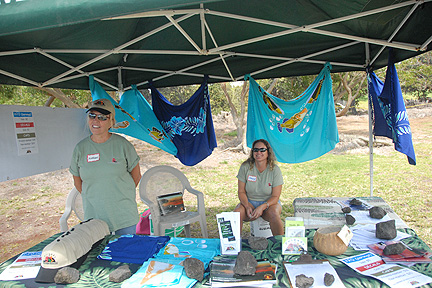 ANNUAL CULTURAL FESTIVAL
Every summer Hawai'i Volcanoes National Park hosts their 38th Annual Cultural Festival. Throughout the day, the sweet sounds of Hawaiian music fill the air and hula dancers, bedecked in flower lei and colorful costumes, bring meaning to the songs through the movement of their eyes, hands, and hips. Cultural practitioners lead demonstrations and provide hands-on learning opportunities for a wide variety of Hawaiian crafts, games, and foods. Stay tuned for information about the 2016 Cultural Festival.
When: Saturday, July 13, 2019 from 10:00 a.m. to 3:00 p.m.
Contact: (808) 985-7373 or volunteer@fhvnp.org
---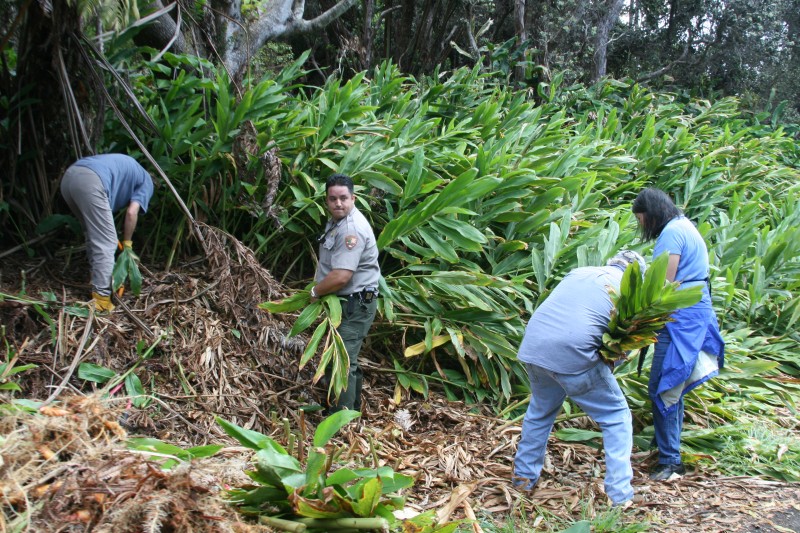 NATIONAL PUBLIC LAND'S DAY
National Public Land's Day (NPLD) is the nation's largest hands-on volunteer effort to improve and enhance America's public lands. In honor of NPLD, the National Park Service holds a "Free Fee" day the last Saturday of September. Our Friends group stations volunteers at the park entrance to solicit donations from visitors to help raise funds for educational programs. We also host volunteer service learning projects such as invasive plant eradication and native species planting. Please assist us on this important day!
When: Saturday, September 28, 2019
Contact: (808) 985-7373 or volunteer@fhvnp.org
Link: Visit the National Public Land's Day website