OUR MISSION
To support the National Park Service in the protection, preservation, and interpretation of the natural and cultural resources at Hawai'i Volcanoes National Park for the enjoyment of current and future generations.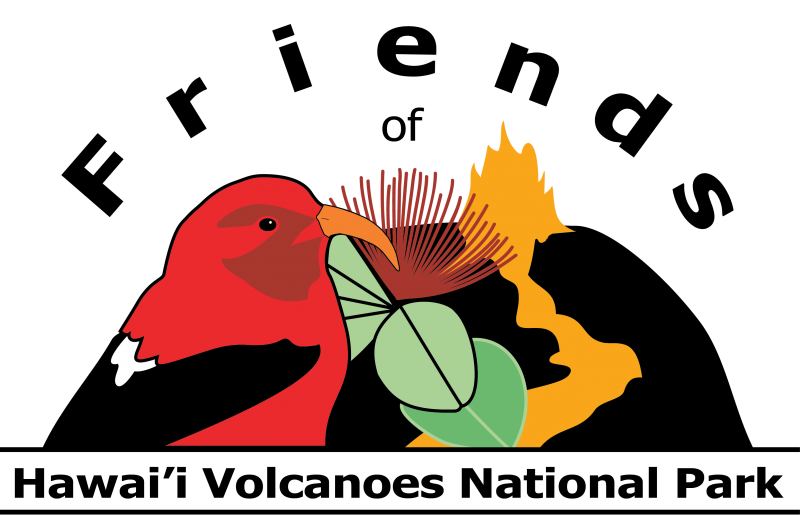 ---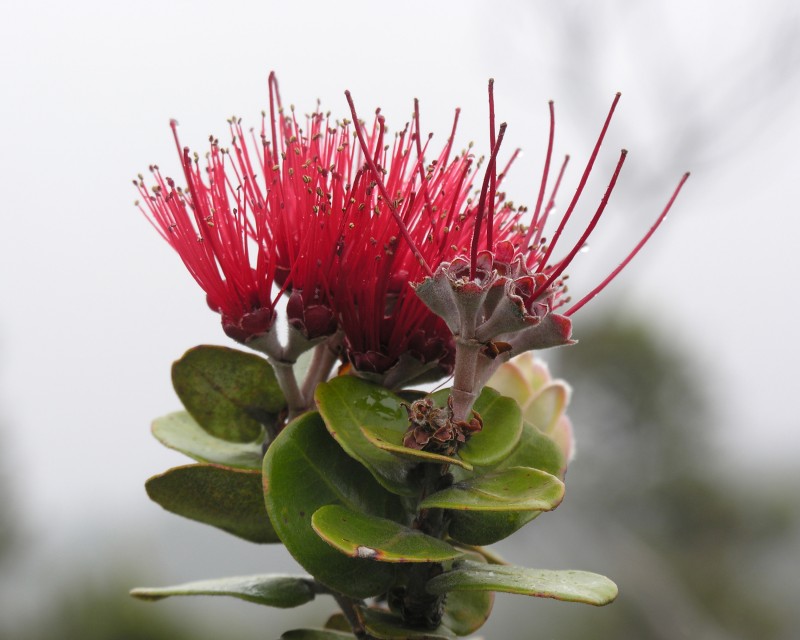 Aloha Friends,
We were finally getting back to business as usual after the natural disasters that closed the park for 4 months, and then WHAM, a government shutdown. It was lovely to see all of us pull together to keep the park open. Every partner inside the park was willing to assist – a big shout out to HPPA, Volcano House and the Volcano Art Gallery. Terrific team work. Instead of lemons, we tried to make lemonade.
FHVNP was successful in raising over $160,000 in the first week of the new year. This fast campaign was stressful for me personally, but we pulled it off. The park was able to bring in Interpretive Rangers, Education Rangers, and of course Law Enforcement & Maintenance – partly because of the money raised by us. The park service rangers were amazing! This place is definitely a well oiled machine, and we were honored to help keep the park open.
We thank the County of Hawai'i, the State of Hawai'i and Hawaiian Airlines Team Kokua – they were our major donors that helped make this all happen.
---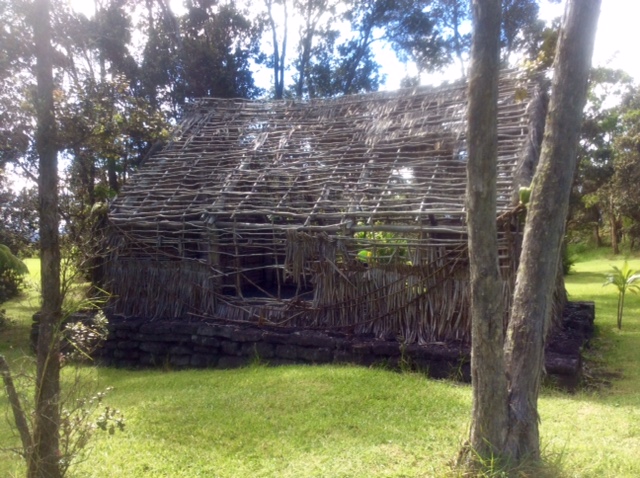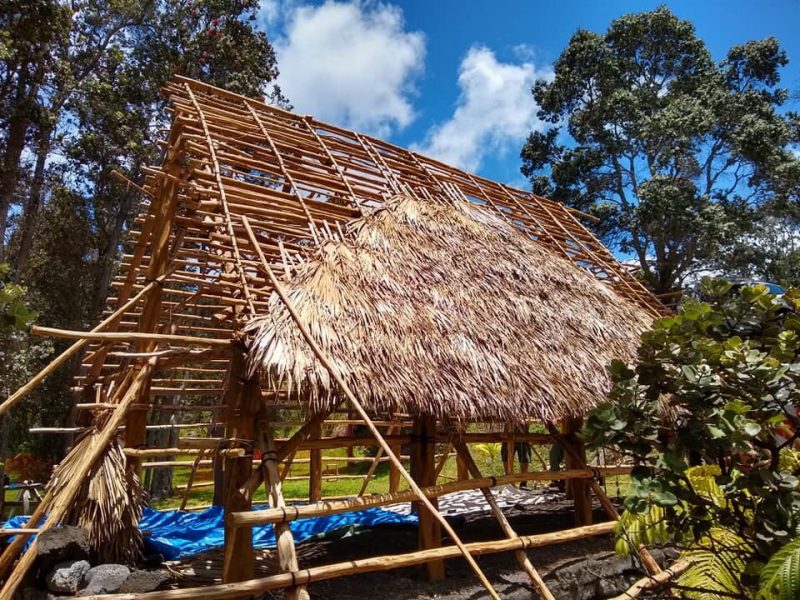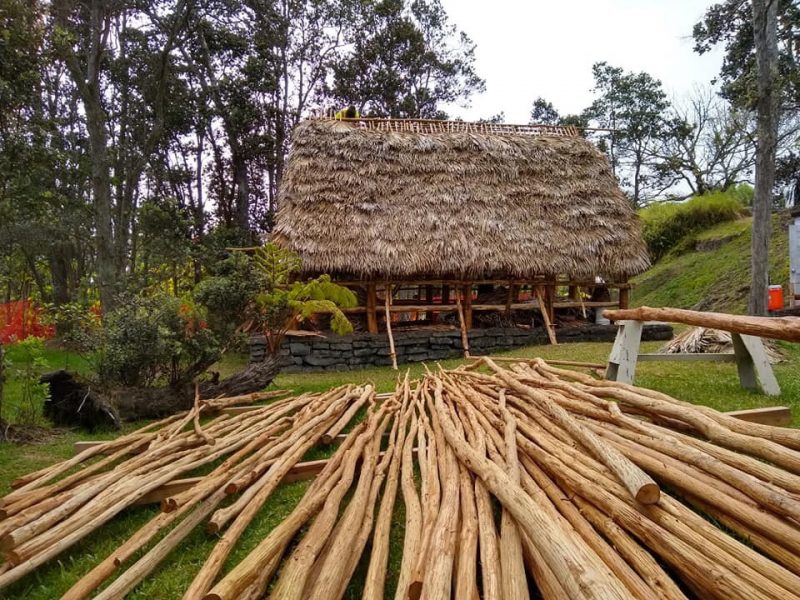 ---
Programs & Projects Funded by Friends
HALE RECONSTRUCTION
The Hale Project officially commenced on April 29, and we were excited to see another collective of organizations – the park, Friends, HPPA, Puuhonua O Honaunau and more to come. We have been raising funds since 2015 to assist with getting this project done.
The project started with the stripping of bark from ironwood logs (due to Rapid Ohia Death), we no longer are able to use the Ohia trees) and collecting materials to rebuild. The pa hula is a very special and significant cultural area. The hale allows for dancers to get ready before a performance.
Undoubtedly the most important to myself and Friends' staff, is we promised our Hawaiian Cultural Practitioner, Irenio "Ab" Kawainohoikala'i Valencia we would get the hale re-built. He was the original FHVNP project manager, and we were devastated when he passed in 2017.
While the park service is not allowed to name this site after anyone, we feel in our hearts that it is for Ab. And, every time we pass the hale we can feel his presence and love.
If you are interested in volunteering, please contact our office at (808) 985-7373.
---
YOUTH RANGER PROGRAM TURNS 10!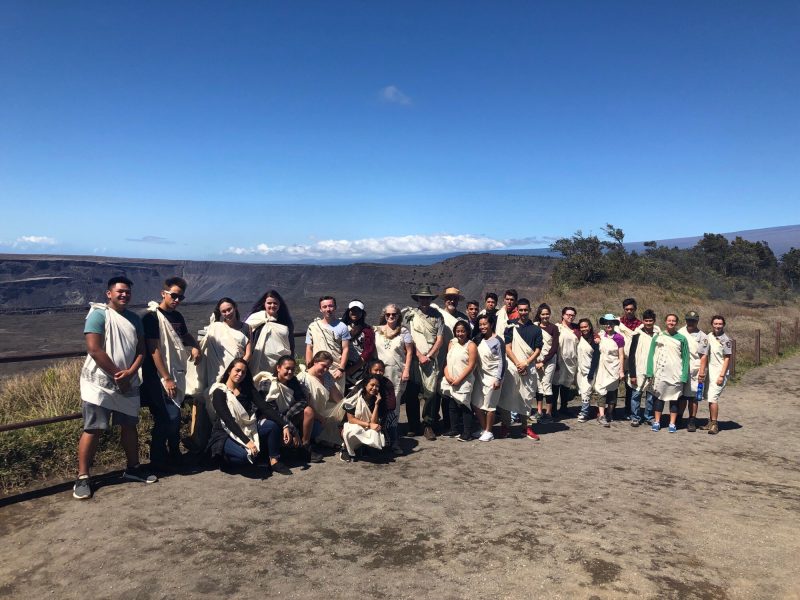 The youth program turned ten years old this year. We have a fabulous class from Kona, Ka'u and Puna Districts. The youth will be working in various areas of the park – Interpretation, Resource Management, and Facilities. The youth start on Monday, June 17. Stop by and say hello.
---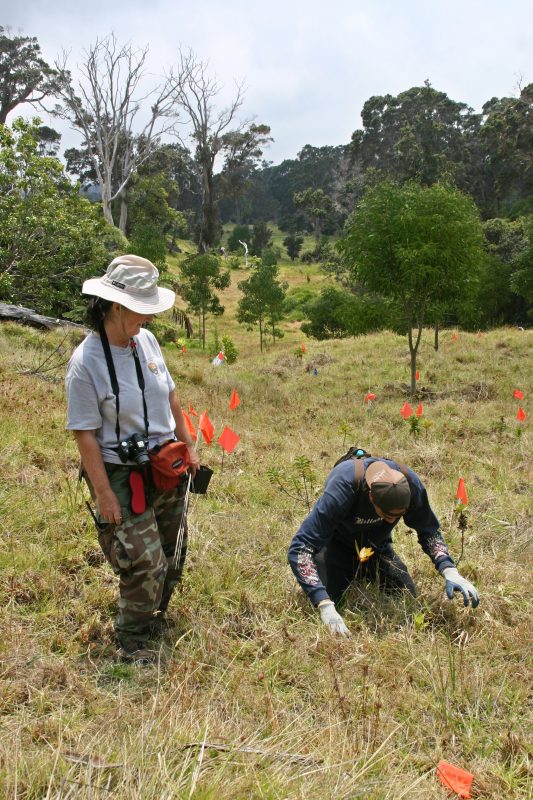 ---
Kīlauea Iki Trail Rehabilitation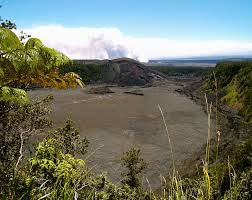 Friends is pleased to announce our next major park project we are funding. We were awarded $50,000 to match the Centennial Fund award, for a total of $100,000.00. These funds will go to rehab the second half of the Kilauea Iki trail. Currently the trail is only open one way in, and out. The project will start in the next few months. This is part of our new Program – Guardians of the Trails. Our goal is to rehab as many front country and back country trails as possible over the next five years.
---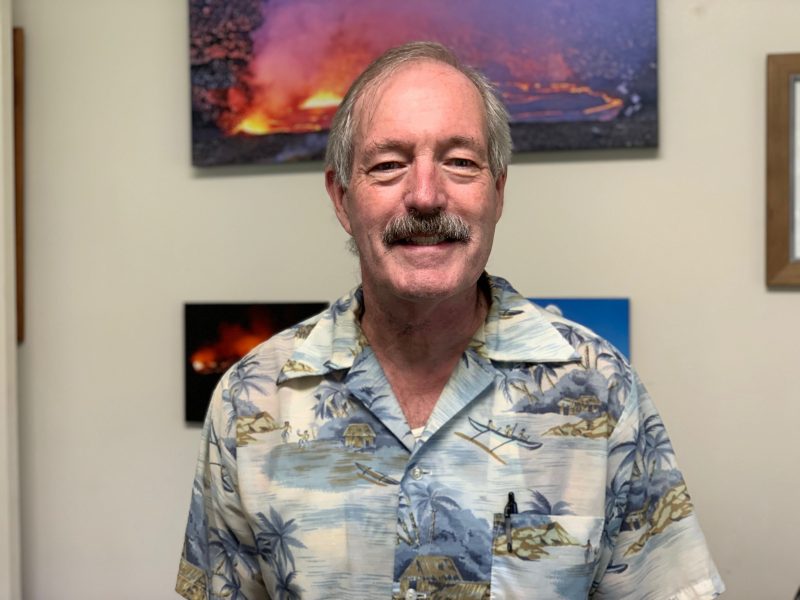 Welcome FHVNP's newest employee, Stephen Geiger. Steve will be managing FHVNP's website, social media and our IT.
Steve grew up on Oahu, and is a proud graduate of Kailua High. After high school, he soon joined the army. Upon return, he worked for UPS for 21 years ending as a software developer. After retirement, Steve volunteered for Hawai'i Volcanoes National Park. Stephen ended up working for the park as their webmaster for 8 years. Steve and his wife Katie have been married 47 years. They have 2 children and 8 grandchildren. Steve lives in Volcano Village and in his spare time he enjoys restoring and repairing vintage vaccum tube hi-fi equiptment. He has also been an avid home beer brewer for the last 20 years.
---
July Artist in Residence – Painter Alice Leese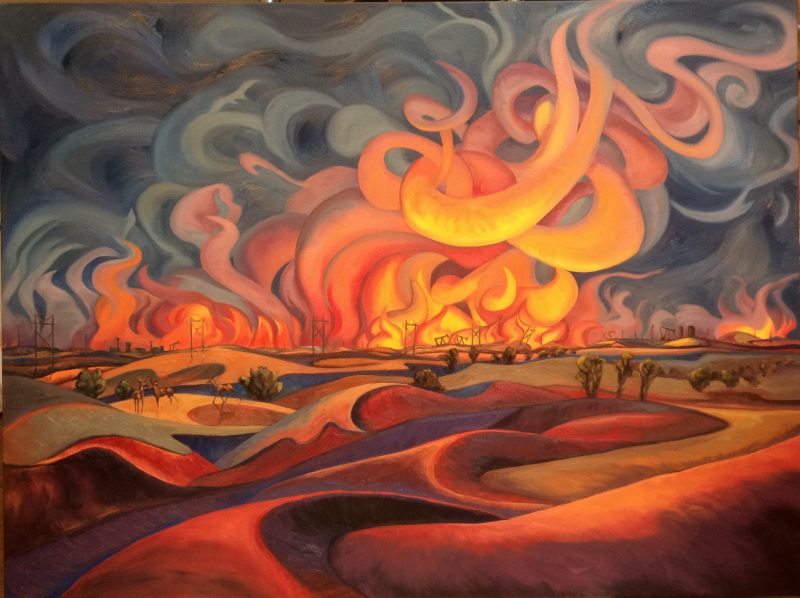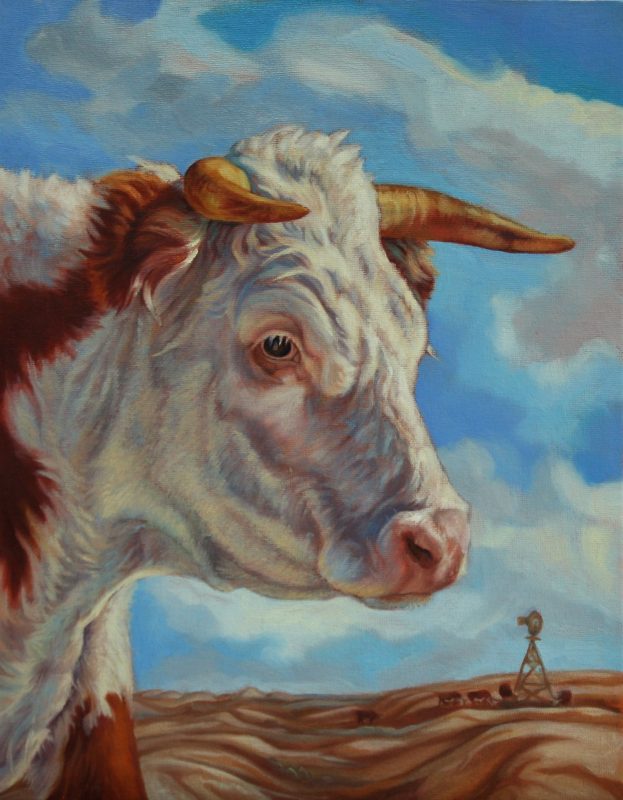 Postcards From the Edge
Painting in the Park with Artist-in-Residence Alice Leese
DATE: July 7, 2019
TIME: 10:00 am – 1:30 am
LOCATION: Hawai'i Volcanoes National Park
COST: $75.00 – includes LUNCH at Volcano House
If you are in the neighborhood, please stop by for a visit. Our building is Quarters 19.
CULTURAL FESTIVAL – Saturday, July 13. Visit our website fhvnp.org for all the details.
Mahalo nui loa,
Elizabeth Fien
President & CEO