sat30jan8:30 amsat3:00 pmA Day with Volcanologist Dr. Ken Hon8:30 am - 3:00 pm Hawaiʻi Volcanoes National Park
Time

(Saturday) 8:30 am - 3:00 pm
Location

Hawaiʻi Volcanoes National Park
Event Details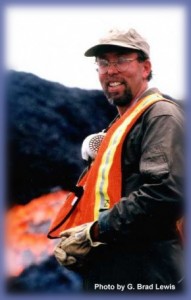 Hawai'i Volcanoes National Park, with two active volcanoes, may be one of the world's best outdoor classrooms for learning the science of volcanology. And, January is Volcano Awareness month!
PROGRAM
Join Professor Ken Hon for this educational adventure. We will hike a loop starting at Hawai'i Volcanoes National Park Visitor's Center. From there we will walk to Sulphur Banks, and continue on to the caldera rim and down to Halema'uma'u floor. We will then proceed to Byrons Ledge and back up to the rim.
Dr. Hon will talk about the formation of the caldera, caldera walls versus faults, ring fractures, sulphur banks, recent theories and more.
Lunch is included in the cost of tuition where we will enjoy the cuisine of the newly opened Volcano House Rim Restaurant. Creative island cuisine highlights the best of Hawai'i Island's bounty through seasonal specials; at least 95% of the restaurant's meat, seafood, fruits and vegetables are sourced from local ranchers, famers and suppliers.
Presenter
Dr. Ken Hon is an Associate Professor of Geology and chair of the Geology Department at the University of Hawaii at Hilo where he has taught for the past 16 years. Ken received his B.A. in Geology from the University of Colorado at Boulder and worked both in minerals exploration and for the U.S. Geological Survey prior to completing his PhD. in Geology at the University of Colorado at Boulder in 1987. Ken spent the following 3 years working as the research volcanologist at the U.S. Geological Survey's Hawaiian Volcano Observatory and was responsible for monitoring the ongoing eruption of Kilauea Volcano. Ocean island volcanism remains the focus of his current research but he has also conducted research on volcanoes in Russia, Arizona, Colorado, and New Mexico. His work on the rheology and emplacement of pahoehoe lava flows has changed the basic understanding of how large lava flows propagate and the timescales required for eruption of continental flood basalts. While Ken's research focus is primarily volcanism, he enjoys teaching and learning about all aspects of Earth science. He is a member of the American Geophysical Union, the International Association for Volcanology and Chemistry of the Earth's Interior, and the Geological Society of America.
When Ken is not around UHH, you can often find hm out filming volcanic activity on Kilauea with his wife and fellow volcanologist Dr. Cheryl Gansecki. They produce educational films about the eruption that are shown in the theater at Hawaii Volcanoes National Park. A lot of the footage is used in many different TV programs on the major networks, Discovery Channel, Learning Channel, and others, as well as at a number of museums including the American Museum of Natural History. You can learn more about ther filming by visiting Volcano Video Productions.
Details
The experience is rated moderate. The hikes, mostly slow-paced, are at 4,000 feet elevation and total about three miles. Be prepared for variable weather conditions and the likelihood of rain.
Cost
This event is presented by the Hawai'i Volcanoes Institute, an educational seminar sponsored by the Friends of Hawai'i Volcanoes National Park, a non-profit organization. Program cost is $60 for Friends members and $75 for non-members. Students (K-12 and college with valid student ID) are half-price. Non-members are welcome to join the Friends in order to get the member discount. Proceeds support the Friends of Hawai'i Volcanoes National Park educational programs.
Registration
Register here on our website, email institute@fhvnp.org, or call 985-7373.
Your registration is confirmed when you pay by credit card over the phone or online, or when we receive a check payable to: Friends of Hawai'i Volcanoes National Park (FHVNP), P.O. Box 653, Volcano, HI 96785.
Cancellation Policy
The Friends of Hawai'i Volcanoes National Park will gladly refund your full amount up to 7 days prior to the day of the event. Between 2 to 6 days, 50% of the cost of the event will be refunded. If cancellation is within 48 hours of the start of the event, 0% will be refunded.
Registration
Tickets are not available for sale any more for this event!